Phil Fried, Minnesota composer/performer and 2008-09 McKnight Artist Fellow, was part of the exciting free jazz scene in the 1970's as a founding member of the New York City Artists Collective at 501 Canal Street. There he met and then performed with Tom Bruno, Ellen Christi, and Ray Anderson and others. This experience was crucial to his musical development as it placed musical and harmonic freedom above all. Music was all about listening, feeling, and reacting. Tonality then seemed to be without a context and out of place. Improvizational composition also seemed untenable at the time, and this is what lead Phil to compose serial (notated) music and also to perform completely improvised performances.
Besides his membership in the Music and Art and the Queens College Jazz bands, Phil's first professional jazz experience was performing with Ray Nance and Brooks Kerr. Of course Phil also performed bass and lead guitar with many rock bands. After a hiatus to study performance and composition he returned to composer/performing. Phil's studies include: a B.M in string bass performance with Julius Levine and composition with: Henry Weinberg, Hugo Weisgall, George Perle, Ralph Shapey and Brian Ferneyhough.

He also studied with Luigi Nono at Centre Acanthes in Avignon France.

Fried has performed solo at Roulette in NY, Baltimore at the Livewire Festival, and Chicago at the International Society of Improvising Musicians convention, and all over the mid-western states. As classical composer he has received a centennial commission from the Minnesota orchestra for Episodes, and a commission, Itty Bitty Symphony, for the new music ensemble Zeitgeist for their 30th Anniversary concert and recording. One of his piano works, I remember the 60's..or was it the 70's,? is featured on a recent Innova label release, Melville's Dozen," by New Zealand pianist Nikki Melville. Phil is an active "blogger" on http://philipfried.blogspot.com/ and http://philsothermusicalpage.blogspot.com/ where he recaps his comments from newmusicbox.org. Phil Fried has maintained a free music composition lesson page since 1999 which can now be found on Http://Philfried.com/compositionlessons. Log in as a "Guest."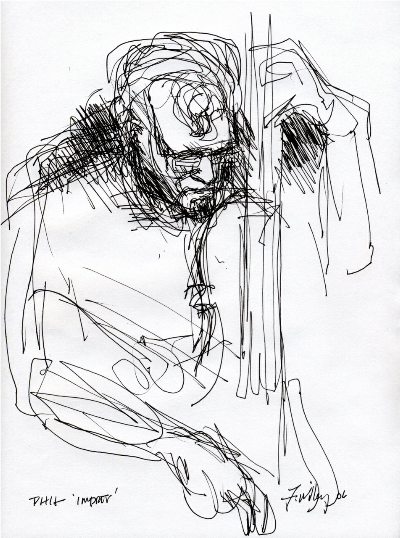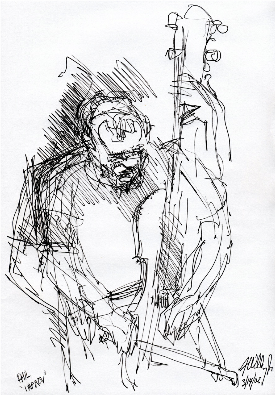 Drawings by Foster Willey
Man and Machine, Solo Bass with real time analog electronics.
An evening of experimental music and free jazz with Philip Fried, a composer and experimental improviser on the string bass who combines free jazz, serial music, atonal music, and electronics with an elegant lyricism.

http://Sequenza21.com has described Phil's solo work as "entrancing."



Man and Machine:



Humanity has always found the machine to be a benefit to society. Yet on closer look we see that this relationship is fraught with passions and ambiguity. Machines can save lives or end them, build or destroy. Every machine use has its supporters and detractors. Every benefit its downside. Machines are not human but when we say "inhuman" we actually mean people taking on the aspects of a machine. Being emotionless. Then again machines are merely a reflection of their operators and programmers. My performance is an aural presentation of these ambiguities.



Solo Improvisation

-- I found my voice as an instrumentalist performing on an upright electric bass. The sound is amplified/unamplified, processed/unprocessed, and mixed via touch and foot pedals by me in real time. The soundscapes I create are in touch with many styles of experimental music. My approach is non tonal as in my composed music but its effect is more intimate and personal. It was crucial for me that my first explorations into non/extended tonal materials were with jazz music. After the careful study of composed music and classical string bass technique I have come full circle and have returned to improvisation.


My use of electronics with my electric upright bass is an attempt to mine new ideas from old technologies in this case the analog MS-10. Time moves so fast that we tend to discard a technology before we can fully explore it. Since my electric upright is analog it would follow that my sound processing would also be analog synthesis. Since the upright electric bass is also a machine there is already an immersion into the electronic machine world. A dichotomy develops because the bass does not create its own sound, I have to play it, the Ms-10 is another story.
In my improvisations with real time electronics-since I am in the moment I don't think about anything-it just happens. That said, as an after thought, I realize that I either ignore, follow, comment, become one, or struggle against the electronic sounds. My performances can have the effect of projecting a trance like state to the audience.